Trademark & Copyright Blog Resources
FDA Approval of Trademarks
As consumers become exposed to more and more pharmaceutical brand names, the role of the US Food and Drug Administration (FDA) in reducing brand name confusion takes on an ever-growing importance. The last thing a drug maker wants to do is invest time and effort developing a brand name that is a strong trademark but cannot pass muster at the FDA.
This resource outlines the rationale for FDA involvement in the trademark registration process, and provides those looking to register a drug name with tips on how to pick a trademark best suited for FDA approval.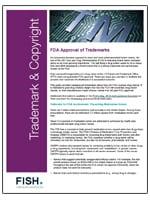 International Trademark Filings Under the Madrid Protocol
The Madrid Protocol is an international treaty designed to simplify the process for obtaining and maintaining trademark protection through a centralized filing system. Provided the owner of a US trademark application or registration (i) is a national of, (ii) is domiciled in, or (iii) has a real and effective place of business in the United States, it may file an International Application through the US Patent and Trademark Office (USPTO) designating any of the more than 80 member countries, as well as the European Union, in which protection is sought.
This resource includes advantages and disadvantages of filing under the Madrid Protocol and a listing of current member countries.
Top 10 Benefits of US Trademark Registration
Trademarks are highly valuable assets. According to one recent estimate, trademarks account for, on average, one-third of corporate value. The world's most valuable brand was recently estimated to be worth more than $180 billion. Developing and protecting trademarks is not a mere "cost of doing business," but rather an investment in customer goodwill, leading to greater customer satisfaction and higher sales. A trademark can be almost anything–a word, logo, sound, shape, color, scent, taste or any combination of these–that distinguishes the goods or services of one party from those of another. Trademarks also assure consumers of consistent quality and thus help promote efficient competition.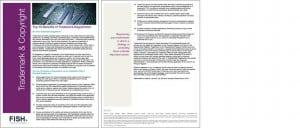 Trademark Thoughts: Third Party Trademarks: Fair Use or Foul?
The core function of a trademark is to serve as an exclusive identifier of the source of a product or service. One of the most important rights enjoyed by a trademark owner is the right to stop others from using the same or a confusingly similar trademark. It stands to reason that the owner of a trademark can be the only legitimate user of that trademark. Or does it?
FishTrademarkThoughtsFall13-4page
Trademark Thoughts: Can We Tweet This?
In today's era of advertising through social media, it is tempting to assume that, because a tweet or post is so fleeting, it is not necessary to jump through the typical legal hoops to clear such content. But what appears to be a harmless transitory post may have a lasting impact in a false advertising or right of publicity legal action.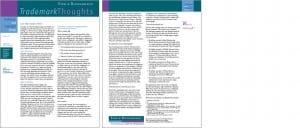 Trademark Thoughts: Job's Daughters Has Risen Again!
Hearst Holdings and Fleischer Studios are co-owners of a presumptively valid, incontestable trademark registration of the mark at left for, among other goods, shirts, sweatshirts, tops, sleep shirts, and jean shirts.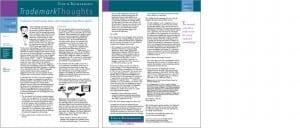 Trademark Thoughts: Plaintiff Beware: Perils of Bringing False Advertising Claims Against FDA-Regulated Products
Patent litigation cases involving million-dollar blockbuster drugs and medical devices seem to routinely make the news. Trademark cases involving such products are rarer, and false advertising cases under the federal Lanham Act involving FDA-regulated products are really news.