The Central District of California joins a handful of courts in acknowledging that the appearance of a website may be entitled to trade dress protection under the Lanham Act.
Trade dress protects the overall look of a product, including features such as size, shape, color, color combination, texture, and graphics.  Trade dress may also include the "'manner in which the goods or services are presented to prospective purchasers . . .' to indicate the creator of a dress."  Salt Optics Inc. v. Jand Inc. et al., No. 10-CV-0828 DOC (RNBx), 2010 WL 4961702, at *4 (C.D. Cal. Nov. 19, 2010).
In Lepton Labs, LLC v. Walker et al., Plaintiffs sued Defendants for, among other things, trade dress infringement, alleging that Defendants copied the appearance of Plaintiffs' website.  Plaintiffs offered several side-by-side comparisons of the parties websites, an example of which is below: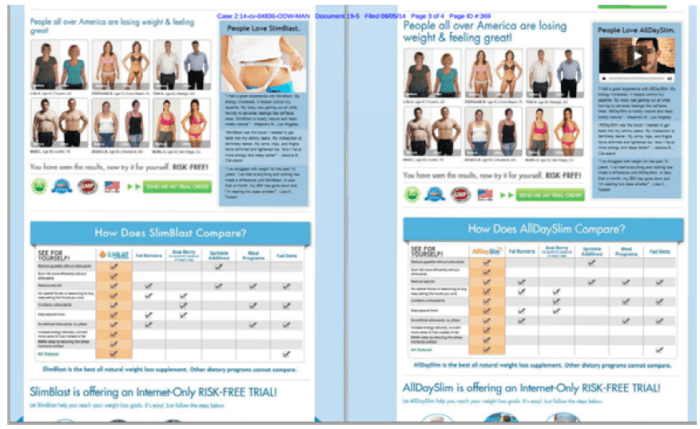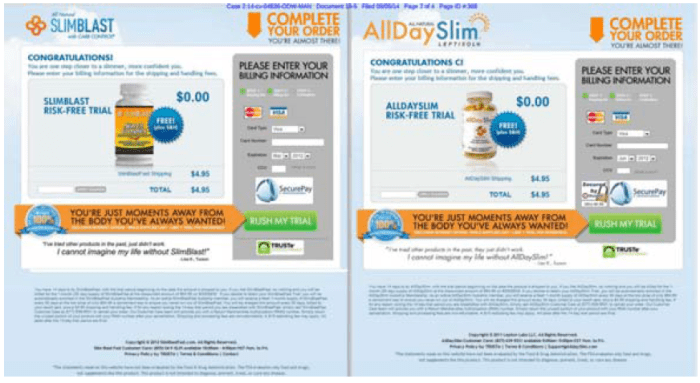 Image credit: Lepton Labs, LLC v. Walker et al. complaint
On a motion to dismiss, the court addressed the unsettled issue of whether "a website's design [can] constitute protectable trade dress under the Lanham Act" and determined that it can.  The court then analyzed whether Plaintiffs sufficiently alleged a protectable trade dress of their website design.
Merely cataloguing a website's features or listing some of the website's design elements is insufficient to plead protectable trade dress.  The key to properly alleging trade dress protection in the appearance of a website is to allege a complete list of elements that comprise the trade dress.  Here, the court specifically noted that where a plaintiff has suggested that the components are "only some among many" a dismissal of the complaint is likely to ensure, and "[s]o long as a plaintiff has alleged a complete recitation of the concrete elements of its alleged trade dress, it should be allowed to proceed."
The court denied the motion to dismiss stating that the pleadings stage is inappropriate to determine the legal merits of a plaintiff's trade dress claim, which is more suitable at summary judgment or trial.
While the law regarding trade dress protection for the appearance of a website remains unsettled, it is clear that a complete recitation of the concrete elements of the alleged trade dress is required to be pled.
This case is Lepton Labs, LLC v. Walker et al., case number 2:14-cv-04836 in the U.S. District Court for the Central District of California.
Related article:
Protect a Distinctive Website With Trade Dress Law, Law360, March 31, 2014
---
The opinions expressed are those of the authors on the date noted above and do not necessarily reflect the views of Fish & Richardson P.C., any other of its lawyers, its clients, or any of its or their respective affiliates. This post is for general information purposes only and is not intended to be and should not be taken as legal advice. No attorney-client relationship is formed.
Related Tags