Blog
Hopping Mad: Public Pressure Forces Lagunitas to Drop Trademark Lawsuit
Authors
Name

Person title

Of Counsel
On Monday, January 12, 2015, Lagunitas Brewing Company, noted maker of the popular India Pale Ale or IPA variety of craft beer, filed a trademark complaint against the Sierra Nevada Brewing Company over essentially the size of lettering on its labels. No doubt these two brewers are bitter rivals.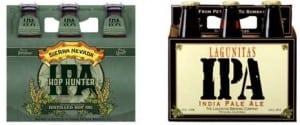 Three days later, after a storm of social media ridicule from its customers, Lagunitas voluntarily dismissed the suit with an apology. Lagunitas maintains that it had a good case and might have won in court, but that it would not be worth the loss it would suffer in the court of public opinion.
While I would certainly rather defend this suit than bring it, the arguments for confusion may not have been so baseless as all those hopping mad Tweets would suggest. First, Sierra's new IPA label is a small but curious departure from its standard label theme which could possibly have led to discovery on intent, a powerful factor when put forth with convincing circumstantial evidence. And sometimes a determinative one when put forth with direct evidence. Second, Lagunitas argued fairly that Sierra has been known to collaborate with other brewers and that consumers could infer that the two were working together on this batch.
But an intent to copy does not always equate to an intent to confuse. Ultimately, the need for brewers to communicate a big and bold message to consumers looking for an IPA would likely trump Lagunitas' arguments of unfairness.
The case is The Lagunitas Brewing Company v. Sierra Nevada Brewing Co., case number 3:15cv00153, U.S. District Court for the Northern District of California.
The opinions expressed are those of the authors on the date noted above and do not necessarily reflect the views of Fish & Richardson P.C., any other of its lawyers, its clients, or any of its or their respective affiliates. This post is for general information purposes only and is not intended to be and should not be taken as legal advice. No attorney-client relationship is formed.
Article February 20, 2015
Uniform Rapid Suspension—the first 100 decisions and an economic analysis
Read more