Since the enactment of the America Invents Act (AIA) in September 2012, post-grant proceedings have become an important part of litigation strategy, and in some instances are helping to reduce the time and cost associated with patent litigation.
Fish & Richardson's 2015 Post-Grant Practice Report takes a closer look at the key issues from the past year in post-grant practice, with particular focus on inter partes review (IPR). Throughout this report, we provide insight on trends and offer practice analysis for your business and patent strategy.
Fish is one of the most active firms at the Patent Trial and Appeal Board (PTAB) according to Managing Intellectual Property, and is also the most active firm representing Petitioners at the PTAB.
For practitioners and those looking to learn more about post-grant proceedings, our team provides a number of practical tools through our dedicated website, fishpostgrant.com, including:
Monthly webinars covering post-grant topics, including recent decisions, lessons learned, practice tips, and trends
Detailed case summaries and decisions, including articles published by members of our post-grant practice.
Link to download Fish & Richardson's post-grant app, which delivers up-to-date post-grant content to your mobile device.
To download the full 2015 Post-Grant Practice Report click here.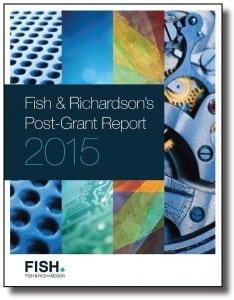 Related Attorneys
Related Services