A unanimous eight-person jury found that Dan Aykroyd's Crystal Head Vodka skull-shaped bottle has been intentionally infringed by Elements Spirits Inc.'s Day of the Dead-inspired skull shaped tequila bottles.  Undoubtedly affecting the jury's four hour deliberation was the last minute rebuttal-witness – an individual involved with Element's bottle design – who testified that Elements founder Kimi Brandi had lied to the jury when she denied ever seeing the Crystal Head Vodka bottle, when in fact she had actually asked him to make a plaster cast of the distinctive skull-shaped bottle for her to base her model on.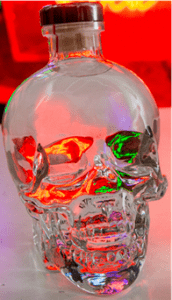 Although this verdict is a major victory for Aykroyd's company, Globefill Inc., it is not the end of the story.  The jury's decision addresses the issue of willful infringement, but the question of lost profits and a permanent injunction will be handled by U.S. District Judge Consuelo Marshall.  Worth noting is that this is the second jury trial in this case overseen by Judge Marshall – and that in the first case (2013) the jury found for Elements.  The Ninth Circuit vacated the original decision in February 2016, and then Judge Marshall denied Globefill's request for a preliminary injunction barring Elements from selling the skull-shaped bottles of tequila until the second trial. Both the drama and the case are far from over.
Globefill Inc. v. Elements Spirits Inc., case number 2:10-cv-02034, in the U.S. District Court for the Central District of California.
Authors: Nancy Ly, John P. McCormick, Robert M. O'Connell, Jr.
---
The opinions expressed are those of the authors on the date noted above and do not necessarily reflect the views of Fish & Richardson P.C., any other of its lawyers, its clients, or any of its or their respective affiliates. This post is for general information purposes only and is not intended to be and should not be taken as legal advice. No attorney-client relationship is formed.