Blog
Avalanche Preparedness: An Official Way to See What's Coming
A new web page has been created by ICANN specifically for displaying Sunrise information for the new generic top-level domains (gTLD) program, available at http://newgtlds.icann.org/en/program-status/sunrise-claims-periods.
As new gTLDs are officially delegated, there are two important time periods to be aware of: Sunrise and Claims periods. Both of these time periods are required for every new gTLD, and the ICANN webpage displays them in an easy-to-read format.
| | | | | | |
| --- | --- | --- | --- | --- | --- |
| TLD | Start- and End-Date Sunrise | Sunrise Open | Sunrise Close | Trademark Claims Open | Trademark Claims Close |
| .singles | End-Date Sunrise | 26 Nov. 2013 | 24 Jan. 2014 | 27 Jan. 2014 | 28 April 2014 |
As indicated by the second column, there are two optional types of Sunrise periods. A Start-Date Sunrise is one that is announced at least 30 days in advance and runs for at least 30 days. The notice period is intended to allow trademark owners time to assess the value of new domain and record marks in the Trademark Clearinghouse. A Start-Date Sunrise may be a first-come, first-served process.
An End-Date Sunrise is one that runs for at least 60 days, such that the announcement period is essentially made part of the Sunrise. The actual allocation of domains occurs at the end of the period, with any conflicts resolved according to the particular registry's dispute resolution procedure (often an auction).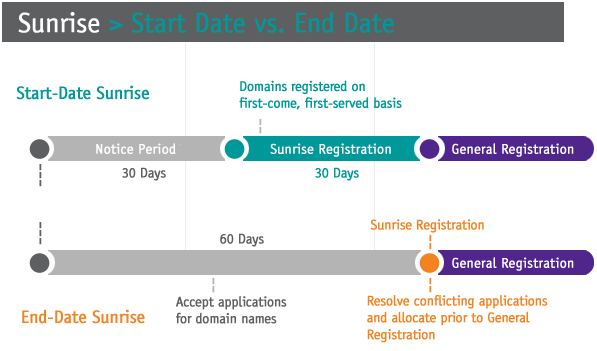 In all cases, the Claims period lasts for at least the first 90 days of General Registration. During this time, notices of trademark rights will be sent to any third party attempting to register a domain that matches a Trademark Clearinghouse record. By proceeding to register the domain name, the applicant avers that its use of the domain name will not infringe the trademark owner's rights.
General information about the new gTLD program can be found on Fish's Domain Names resource page. If you have any questions, please contact your Fish & Richardson attorney or:
Keith Barritt
Principal
barritt@fr.com
Jerre B. Swann, Jr.
Of Counsel
swann@fr.com
The opinions expressed are those of the authors on the date noted above and do not necessarily reflect the views of Fish & Richardson P.C., any other of its lawyers, its clients, or any of its or their respective affiliates. This post is for general information purposes only and is not intended to be and should not be taken as legal advice. No attorney-client relationship is formed.