Sarah Harrison-Schmidt, Ph.D.
Technology Specialist (Contract)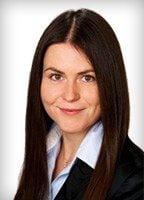 Overview
Insights
Recognition
About Sarah
Sarah Harrison-Schmidt, Ph.D., is a contract technology specialist in the Washington, D.C., and Munich offices of Fish & Richardson P.C. Her practice supports patent prosecution with a focus on computer science and quantum physics.
Dr. Harrison-Schmidt has technical knowledge and experience prosecuting patent applications in diverse fields such as quantum computing, computer architecture, telecommunications, network security, classical and quantum cryptography, mobile device applications, semiconductor materials and devices, speech recognition and synthesis, search systems, finance, and business methods.
Prior to joining Fish, Dr. Harrison-Schmidt worked in the quantum information theory research group led by Prof. Reinhard Werner at the Leibniz Universität, Hannover, and successfully collaborated with several external institutions such as NetApp, Inc., the department of computing at Imperial College, London, and the center for quantum technologies at the National University of Singapore.
Publications
Sean Barrett, Klemens Hammerer, Sarah K. Harrison, Tracy E. Northup and Tobias J. Osborne, Simulating quantum fields with cavity QED Physical Review Letters 110, 090501 (2013)
P.G. Harrison, S. K. Harrison, N.M. Patel and S. Zertal, Storage Workload Modelling by Hidden Markov Models: Application to FLASH memory Performance Evaluation 69, 1 (2012), 17-40
Norbert Schuch, Sarah K. Harrison, Tobias J. Osborne and Jens Eisert, Information propagation for interacting-particle systems Physical Review A 84, 032309 (2011). [arXiv:quant-ph/1010.4576]
Sarah K. Leyton and Tobias J. Osborne, A quantum algorithm to solve nonlinear differential equations [arXiv:quant-ph/0812.4423]
Doctoral Training Award, awarded by the British government agency: Engineering and Physical Sciences Research Council (EPSRC)
University of London Sir John Lubbock Prize (awarded to top graduating mathematician amongst all London Colleges)
Institute of Mathematics and its Applications (IMA) Prize (awarded to the best finalist in Mathematics at the College)
Royal Holloway College, University of London Thewlis/Wilks Prize (awarded to a student entering for the final examinations in Mathematics to assist him or her in postgraduate work)
Focus Areas
Services
Education
Ph.D., Quantum Information Theory, University of London, Royal Holloway College (2013) Dissertation: Variational Simulation of Continuous Quantum Systems
---
M.S. first class honours, Mathematics, University of London, Royal Holloway College (2008) Dissertation: Statistical Inference in Hidden Markov Models​
Admissions
Languages