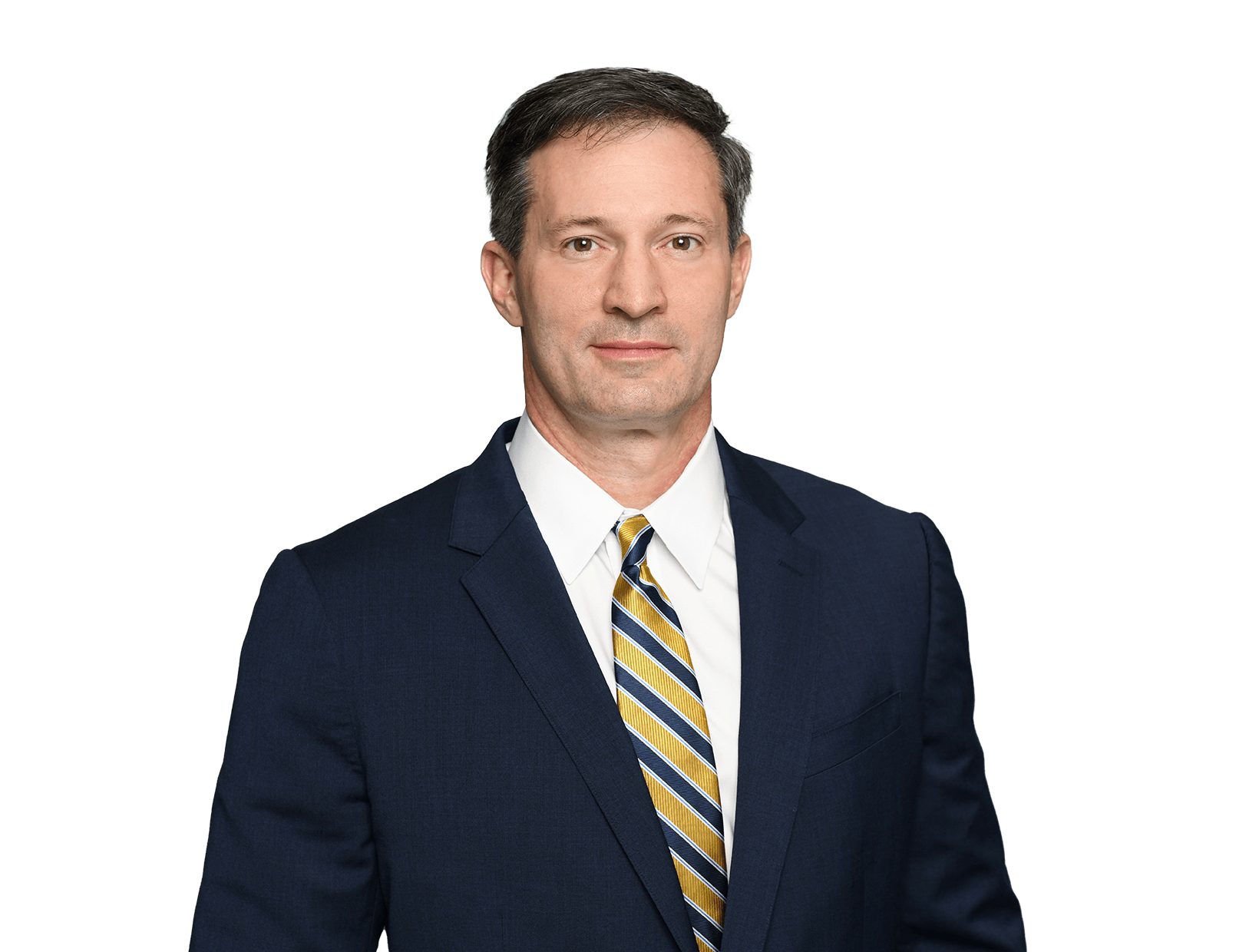 Christopher O.
Green
---
Title

Principal

Offices

Atlanta

Phone Numbers

Email
Overview
Christopher Green is a first-chair trial lawyer whose practice spans all areas of intellectual property litigation and counseling.
Chris has successfully tried cases originating in both state and federal courts in venues across the country for clients ranging from startups to Fortune 100 companies. He also represents clients before the U.S. International Trade Commission and, as a registered patent attorney, he actively assists clients with post-grant proceedings before the Patent Trial and Appeal Board.
Chris's litigation and counseling experience encompasses a diverse range of technologies, including mobile devices, pharmaceuticals (Hatch-Waxman), medical devices, power management, 3GPP protocols, fiber optics, medical imaging, and Voice over Internet Protocol and related protocols. He also is experienced in microprocessor design and operation, mesh networks, digital video and encoding standards, logistics and queue management software, network security, and industrial control and automation, as well as industrial and commercial lighting products, interactive voice response systems, and satellite communications.
Among Chris's many victories for clients was a hard-fought four-year patent infringement battle for Velcro Companies in the Middle District of Georgia, where he and his team won a complete defense jury verdict of noninfringement for Velcro Companies against YKK Corp., the company's primary rival in the transportation and automotive segment of the hook and loop fastener business.
Before practicing law, Chris gained substantial technical experience while serving at a software development firm, where he designed applications for international and domestic telecommunications clients. He has additional engineering experience in areas such as wireless communications and electric power generation and delivery systems.
A co-founder of Fish's Atlanta office, Chris has received substantial recognition for his work on behalf of his clients. He was selected for inclusion in the 2014-2019 editions of Chambers USA as a leader in his practice and as one of The Best Lawyers in America© for IP and patent litigation every year since 2015. He also has been named as an IP Super Lawyer from 2013 to 2020.
Chris is a regular lecturer on issues relating to IP law, including at the Emory University School of Law and the Georgia Institute of Technology's Scheller College of Business. He volunteers his services through the Atlanta Volunteer Lawyer Foundation's Safe Families office, which named him 2019 Volunteer of the Year for his work assisting families suffering from domestic violence.
When he's not at work, Chris enjoys coaching youth basketball.
YKK Corporation et al v. Velcro Companies USA Inc. (M.D. Ga. 2017)
Read more about this case in the news.
Certain Electronic Devices, Including Wireless Communication Devices, Computers, Tablet Computers, Digital Media Players, and Cameras 337-TA-953 (2015)
Abstrax, Inc. v Hewlett-Packard (E.D. Tex. 2015)
Tridia Corp. v. HOB, Inc. and Pulse Secure, LLC (N.D. Ga. 2015)
BlueBonnet Telecommunications v. Avaya (E.D. Tex. 2014)
Straight Path IP Group, Inc. v. Avaya Inc. (N.D. Ca. 2014)
Relay IP, Inc. Avaya Inc. (D. Del. 2013)
Message Notification Technologies LLC v. Avaya Inc. (D. Del. 2013)
VirnetX Inc. et al v. Microsoft Corporation (E.D. Tex. 2013)
Pragmatus AV, LLC v. Avaya, Inc. (D. Del. 2012)
Ganas, LLC v. Avaya Inc (E.D. Tex. 2012)
Warrior Sports, Inc. v Bauer Hockey, Inc. (E.D. Mich. 2012)
Implicit Networks, Inc. v. Hewlett-Packard Co. (N.D. Ca. 2012)
Stambler v. Federal Reserve Bank of Atlanta et al. (E.D. Tex. 2012)
VirnetX Inc. v. Avaya, et al. (E.D. Tex. 2011)
RPost Holdings, Inc., et al. v. Canada Post Corp., et al. (E.D. Tex. 2011)
Brandywine Communications Technologies v. Shoretel Inc. (M.D. Fla. 2011)
Implicit Networks, Inc. v. Hewlett-Packard Co. (N.D. Ca. 2010)
Ganas, LLC v. Sabre Holdings Corp et al. (E.D. Tex. 2010)
Microlog Corp v. Genworth Financial Agency Inc., Genworth Financial Inc., et al. (E.D. Tex. 2010)
Spansion LLC v. Samsung Electronics Co., LTD., et al. (W.D. Wis. 2010)
Spansion LLC v. Samsung Electronics Co., LTD., et al. (E.D. Va. 2010)
Macha IP LLC v. A&R Allied Enterprise, Inc. et al. (E.D. Tex 2010)
Vizio Inc. v. LG Electronics (D. Md. 2009)
Klausner Technologies v. Qwest et al (E.D. Tex. 2009)
Tekelec v. Performance Technologies, Inc. (E.D. North Carolina 2009)
Guardian Media Technologies, Ltd. v. Coby Electronics Corporation, et al. (C.D. Cal. 2009)
In the Matter of Certain Tunable Laser Chips, Assemblies, and Products Containing Same 337 TA 662 (2008)
LG Electronics v. Petters Group Worldwide, LLC et al. (E.D. Tex. 2008)
JDS Uniphase Corporation v. Syntune, AB and Cyoptics, Inc. (N.D. Cal. 2008)
Document Generation Corporation v. McKesson Information Solutions LLC, (E.D. Tex. 2008)
Gemini IP LLC v. Avaya Inc. et. al. (E.D. Tex. 2007)
Hospital Systems Corporation v. McKesson Information Solutions LLC, et al. (E. D. Tex. 2007)
Cisco Systems, Inc. et al. v. GPNE Corp., (D. Del. 2007)
Meridian Enterprises Corp. v. Bank of America Corp. et al. (E. D. Mo. 2006)
NICE Systems, Ltd. and NICE Systems, Inc. v. Witness Systems, Inc. (D. Del. 2006; Farnan, J.)
Witness Systems, Inc. v. NICE Systems, Ltd. and NICE Systems, Inc. (N.D. Ga. 2006; Batten, J.)
John W. Ragsdale Jr. as Trustee for the Estate of Velant, Inc. H. Donald Ratliff, and William Nulty v. Twin City Insurance Company (N.D. Ga. 2005)
Witness Systems, Inc. v. NICE Systems, Inc. and NICE Systems, Ltd. (N.D. Ga. 2004)
Allied Lighting Systems, Inc. v. Acuity Brands, Inc. 04-CV-1291-IEG (AJB) (S.D. Cal. 2004)
STS Software Systems, Ltd. v. Witness Systems, Inc. (S.D.N.Y. 2004 and N.D. Ga. 2004; Story, J.)
Scientific Games International, Inc. v. Oberthur Gaming Technologies Corporation (N.D. Ga. 2003)
CAPS Logistics, Inc. v. Velant, Inc. et al. (Fulton Superior Court, Ga. 2003)
SuperGuide Corp. v. DIRECTV Enterprises, Inc., EchoStar Technologies, Inc., Thomson Consumer Electronics, Inc. v. Gemstar Development Corp. 169 F. Supp. 2d 492 (W.D. N.C. 2001)
Safe Families Office Volunteer of the Year
Testimonials
"He is extremely sharp in dissecting the issues that matter and brings tremendous clarity to complex problems." — Client Testimonial, 2021 Chambers and Partners USA