Fish & Richardson announced that the firm has received the 2016 Innovative Project of the Year award from the International Legal Technology Association (ILTA).  Fish received the award in the
Internal/Firm-Facing category for having planned and implemented Fish.LKM (litigation knowledge management), which is a proprietary, first-of-its-kind, hybrid document and case management system.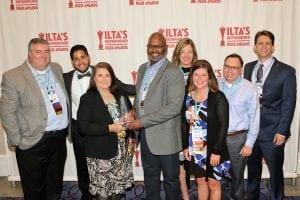 Fish.LKM combines the intelligent capture, organization, and views of the case file with legal strategy and evidence analysis.  By design, Fish.LKM exposes case-related data to the firm's administrative departments to aid with reporting and strategic initiatives in accounting, marketing, pricing, conflicts, and other areas.  It is built on top of SharePoint and seamlessly automates the litigation life cycle.  Lawyers, paralegals, and secretaries use Fish.LKM to improve efficiencies and reduce client costs, while producing the highest quality work product.
"Fish is at the forefront of creating pioneering technical tools and processes that streamline our operations to put key information and tasks at our fingertips so that all of our teams can perform with exceptional efficiency," said Kurt Glitzenstein, Litigation Practice Group Leader at Fish.  "Fish.LKM is the most recent example of how our information technology and litigation departments work together to develop creative new ways for our litigators to deliver superior work and client service."
The ILTA Distinguished Peer Awards program recognizes firms who have delivered great business value and transformational impact through their innovations and implementations or have been champions in specific areas of focus for their organizations.  ILTA promotes the strategic advantages of technology in the legal profession.  The organization's international membership comprises over 1,400 entities and includes firms and law departments of all sizes and all areas of practice, each sharing a common need to have access to the latest information about products and support services that impact the legal profession worldwide.  For more information, visit www.iltanet.org.
Related Services