Fish & Richardson has been named an elite "National First-Tier" law firm in five practice areas – Patent Law, Technology Law, Trademark Law, Intellectual Property (IP) Litigation, and Patent Litigation – in U.S. News/Best Lawyers 2013 "Best Law Firms" rankings. Fish was also recognized as the "Law Firm of the Year" in IP Litigation and Patent Litigation. Only one law firm in each practice area – from among thousands of firms nationally – is selected to receive "Law Firm of the Year" honors, making this a particularly significant achievement.
The rankings are based on a rigorous evaluation process that includes collecting client and lawyer evaluations and peer review from leading attorneys in their field. Fish's high rankings and designation as "Law Firm of the Year" signal a unique combination of depth and breadth of expertise and unparalleled excellence. Fish's offices in Austin, Boston, Dallas, Delaware, Houston, Minneapolis, New York, San Diego, and Washington, D.C. also received top "First-Tier" rankings.
"We are honored to not only sweep the top First-Tier rankings across the entire spectrum of intellectual property law, but also to be named Law Firm of the Year for both IP and patent litigation," said Peter J. Devlin, President of Fish & Richardson. "We work hard every day to provide our clients with the absolute best quality legal work and this recognition confirms what our clients and colleagues already know – Fish is a powerhouse when it comes to intellectual property. When the stakes are highest, we deliver winning results in a cost effective way."
For a full list of the honors Fish & Richardson won, click here.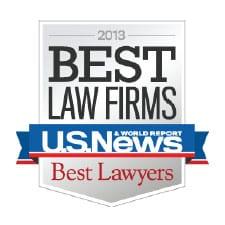 ---
The opinions expressed are those of the authors on the date noted above and do not necessarily reflect the views of Fish & Richardson P.C., any other of its lawyers, its clients, or any of its or their respective affiliates. This post is for general information purposes only and is not intended to be and should not be taken as legal advice. No attorney-client relationship is formed.
Related Services
Related Offices