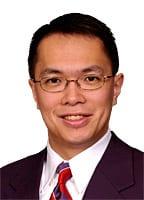 Washington, D.C., September 16, 2014 – Fish & Richardson announced today that Christian Chu, a principal in the firm's Washington, D.C. office, has been named a "D.C. Rising Star" by the National Law Journal (NLJ).  The D.C. Rising Stars are the region's 40 most promising lawyers under age 40 who have wielded influence in their practice areas, demonstrated strong leadership qualities, developed unique practice niches, showed expertise in litigation or transactional work, and committed themselves to civic and volunteer work.
At Fish, Chu focuses his practice on intellectual property and technology licensing and litigation, in a vast range of technical areas, including chemistry, biotechnology, mechanical and electrical engineering, display technology, and wireless technology.  A trial attorney experienced in all phases of litigation, Chu has tried many cases, including before the U.S. International Trade Commission.  Earlier this year, Chu was named a 2014 International Trade "Rising Star" by Law360.
Chu has served on the boards and committees of various professional, educational, and public service organizations throughout his career.  He recently completed a year as a co-chair of the Law Clerks & Students Committee of the Federal Circuit Bar Association, and served as a vice-chair of that committee the previous year.
Chu received his J.D., Order of the Coif, from the University of California, Berkeley School of Law in 2001, where he was an editor of the Berkeley Technology Law Journal, and his B.A., magna cum laude, in biochemistry from Harvard University in 1997.
Related Attorneys
Related Offices