Fed. Cir. affirmed summary judgment of invalidity of two design patents for obviousness.  The patents claim designs for football and baseball jerseys for dogs.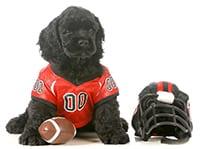 The district court had found obviousness by combining a "primary reference" with one of several "secondary references," and the patentee challenged whether various prior art was properly considered a primary or secondary reference.
MRC Innovations, Inc. v. Hunter Mfg., LLP, __ F.3d __ (Fed. Cir. Apr. 2, 2014) (Rader, PROST, Chen) (N.D. Ohio Gaughan) (2 of 5 stars)
Primary Reference:  A Philadelphia Eagles dog jersey was a proper primary reference for the football jersey patent even if the district court did not translate the claimed design into verbal description: "[T]he district court did not err by failing to provide an express verbal description of the claimed design; rather, it described the claimed design in the context of comparing it to the prior art."  Slip op. at 8.  Moreover, the Eagles jersey was "basically the same" as the patent because it provides the same "overall visual impression."  Id. at 9.  The "slight differences" between the two did not defeat obviousness:  "if the designs were identical, no obviousness analysis would be required."  Id.
Secondary References:  Two secondary references were properly combined with the primary reference because they were "so related to the primary reference" that they would "motivate the skilled artisan to make the claimed design."  Id. at 11.  It was unnecessary to separately articulate why the skilled artisan would combine them because "it is the mere similarity in appearance that itself provides the suggestion that one should apply certain features to another design."  Id. at 12.  Moreover, the patent was still obvious despite the absence of one insubstantial element from any prior art reference:  "on numerous occasions we have invalidated design patents despite the inclusion of ornamental features that were entirely absent from prior art designs."  Id. at 14.
Secondary Considerations:  The patentee failed to meet its "burden of production to demonstrate a nexus between the claimed design and the secondary considerations," so its allegations could not overcome the other evidence of obviousness.  Id. at 15-16
Finally, the Fed. Cir. affirmed obviousness of the baseball jersey patent for similar reasons as those for the football jersey patent.
---
The opinions expressed are those of the authors on the date noted above and do not necessarily reflect the views of Fish & Richardson P.C., any other of its lawyers, its clients, or any of its or their respective affiliates. This post is for general information purposes only and is not intended to be and should not be taken as legal advice. No attorney-client relationship is formed.
Related Tags